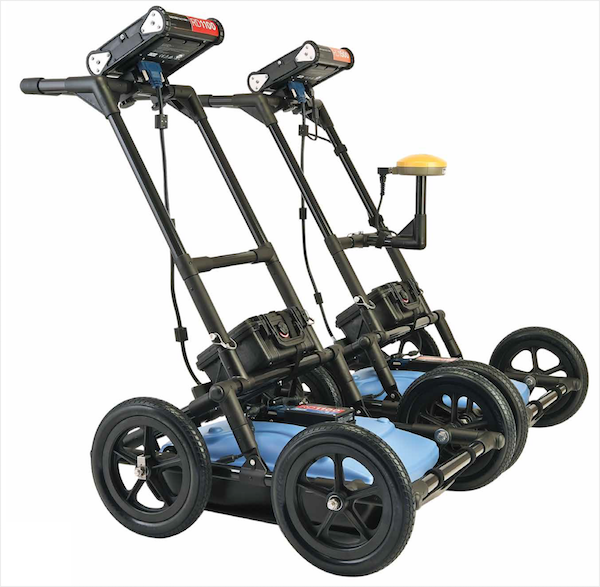 Radiodetection RD1100
Detects both conductive and non-conductive underground utilities using wide-band radar technology.
Radiodetection is pleased to announce the launch of the RD1100 and RD1500 GPR utility locating systems offering a range of products for viewing and analyzingburied utilities.
Both new units now have internal GPS, on-board Wi-Fi and a high resolution touch screen. Additionally, the RD1500 allows users to create depth slices and review their locate path RD1100 and RD1500 on screen while on site, and selectively enhance shallow/small, medium depth/size, or deep/large targets using the proprietary FrequenSee™.
RD1100 is the ideal workhorse for locate specialists, surveyors and other professionals that need to trace and mark the positions of both metallic and non-metallic buried cables and pipes. The GPS included as standard allows users to display the position of screenshots taken in Google Earth™ and other geo-referencing programs.
Screenshots are saved with one button-push to internal memory together with their GPS and other relevant data. These can be emailed to clients or colleagues via the on-board Wi-Fi or exported later via USB.
RD1500 becomes the Ground Penetrating Radar utility locating equipment of choice; by recording Grid Scans, users can view not only Line Views but also Depth Slices which greatly increases the clarity of the collected data.
The proprietary FrequenSee technology exploits the wide bandwidth of the RD1500 antenna and allows the user to select the low, medium or high part of the frequency spectrum to focus on the desired features, selectively enhancing small, medium, large or all targets for easier viewing and detection.
Options for the RD1500 include:
An external GPS, for higher accuracy
The Enhancement package, which enables PC users to slice through the exported depth data, export data to other formats and more
And, for even more analysis, the Utility Suite software option that offers features such as processing and displaying grid data in alternative ways, and the ability to output data to 3D visualization software such as Voxler®.
Geotechnical Engineering Limited of Gloucester, England, is the largest privately owned ground investigation contractor in the UK. Utility surveying forms an integral part of their daily activities and Gary Simpson, Operations Manager, enthused "the RD1500 provides the performance I'm looking for, with FrequenSee giving me the advantages of three antennas in one."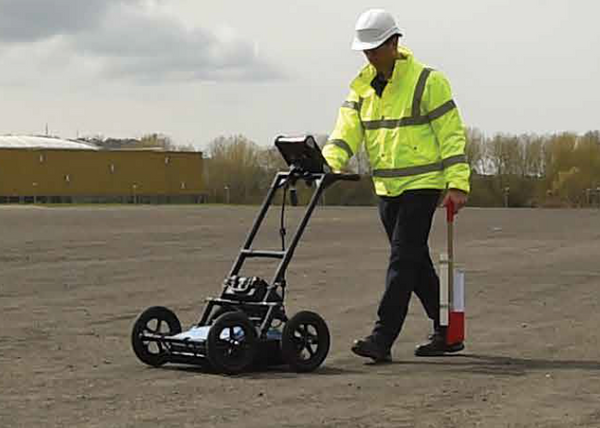 OVERVIEW:
Radiodetection's RD1100™ provides high-performance subsurface imaging for buried utilities in a rugged and competitively priced GPR system. Designed for the utility industry, the RD1100 GPR SystemRD1100 features a wide-band sensor capable of detecting plastic and ceramic utilities at depths of up to 8m / 27' deep.
Its high resolution touch screen display adds to its ease of use, including the ability to draw arrows directly on the screen to highlight subsurface features of interest.
Screenshots are taken with a single button press and saved to internal memory as JPGs. These can be exported later to a USB memory stick or emailed by connecting to a Wi-Fi network or by using a cell phone as a hotspot. Instant information, higher productivity!
GPS positioning is captured alongside the Line View data for integrating into geo-referencing packages.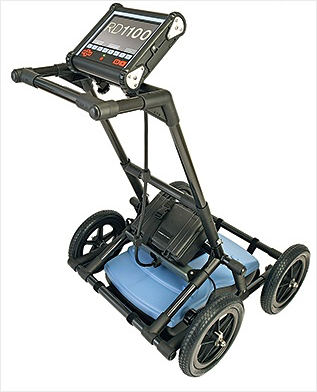 FEATURES:
Detect conductive & non-conductive pipes & ducts
Accurately locate & mark utilities in a single pass
Easy screenshot capture
Internal Wi-Fi & USB for data transfer
High resolution touch screen display
Internal GPS
Rugged yet portable