Take the next step in locating buried infrastructure.
Locating and protecting buried infrastructure is a key operation for many industries. Locator technicians need reliable equipment that can be used all day, every day in tough environments. They demand tools that can deliver efficient operations, high levels of safety, and precise and accurate measurements.
Designed with operators in mind, the new RD8200 and transmitter is our most advanced cable range of precision locators yet. Created and built in the UK, they are subjected to a rigorous test regime and quality checks before leaving our factory, continuing our long tradition of high quality and reliability. The RD8200 offer a set of new features to improve operational efficiency and adherence to best practice.
SPECIAL OFFER: RD8200G & RD7200 Locator Bundles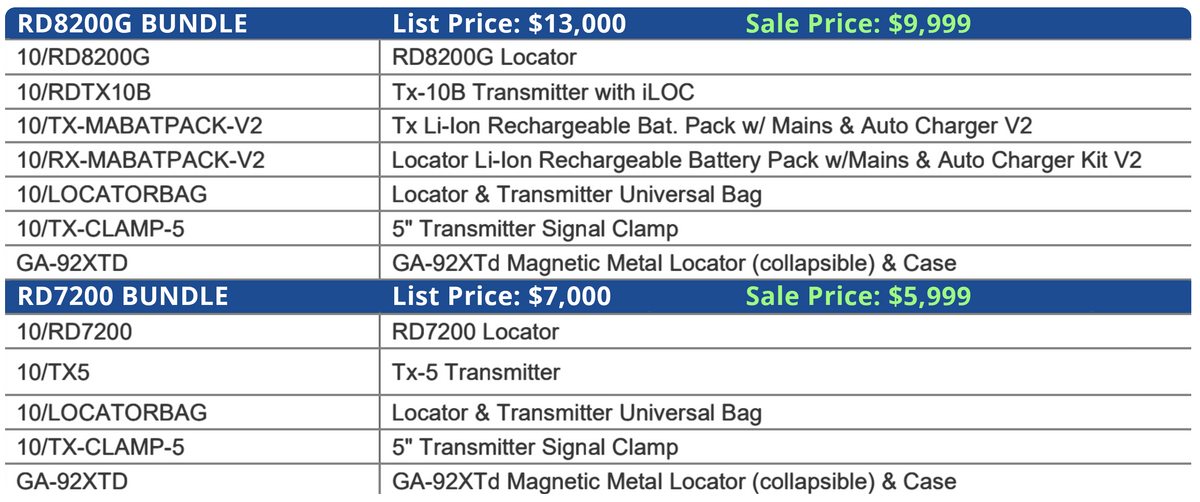 Radiodetection is offering a special price for our precision locator kits bundled with a Schonstedt magnetometer. Customers can purchase these bundles at a special rate, for a limited time, through our authorized distribution channel. This limited-time introductory offer won't last long. Complete bundles must be purchased, and bundles cannot be altered.
To place your order, please email jeff@locatorguys.com with the bundle part number 10/82G-GA92XTDKIT or 10/72-GA92XTDKIT.
*This cannot be combined with other offers.
Basic Kits Starts at $6895
BASIC KIT INCLUDES:
Receiver
Transmitter
Soft Carry Bag or Hard Case
20ft Cables and extra 20ft extension cable
Ground Rod
Instructions
Additional options and upgrades are available.
THE PROFESSIONAL CHOICE IN DAMAGE PREVENTION
Vibration Feedback System to Reduce the Chance of Missed Warnings
The locator handle vibrates when alerts activate, leaving the operator to concentrate on the job at hand.
Automatic logging system to influence on-site behavior
The RD8200G records details on how, when and where it is used. This information can be utilized to drive best practices, identify training needs and maximize operator productivity.
Bluetooth BLE technology to be ready for a connected world
The new single or dual Bluetooth system offers a new connectivity platform designed to offer future upgrades and connectivity solutions. Radiodetection and their distributor partners can also offer local training, that can be customized to meet specific needs, as well as support to maximize business continuity and efficiency.
Industrial Grade Display, for Outdoor Usage
RD8200 locators and transmitters use transflective low power LCD technology that uses ambient light to improve screen readability in direct sun light and extend battery life.
TruDepth™ and current readout, for extra assurance Radiodetection's TruDepth displays precise depth and current measurements, only when the RD8200 is correctly oriented above the target. Measurement consistency gives high confidence that the correct line is being followed.
High performance audio and vibration alerts, for noisy environments. The RD8200 waterproof speaker housing has been tuned to provide optimum resonance for your choice of high or low frequency tones.5 power output audio levels and vibration alerts, assist technicians working in challenging situations.
Peak+ Mode, for speed and accuracy Peak+ adds the benefits of Guidance or Null locating to the accuracy of Peak model. Guidance gets you to the Peak position faster. Null lets you check for the distortion caused by other utilities, spurs or interference.
Adaptable in Challenging Environments
The RD8200 range of locators and transmitters simplify the task of distinguishing and tracing utilities in congested networks, near substations or high voltage lines.
Current Direction, Track the Right Line
Identify your target amongst a number of parallel utilities by applying a specialized CD signal from a Tx-10 transmitter. CD arrows displayed on the locator confirm you are tracing your target line.
Power Filters™, Works Where Other Locators Won't
When a transmitter can't be connected, tracing individual power lines through dense networks can be a real challenge. Conflicting or powerful signals confuse or combine to create a wash of signal. A single key press enables the use of the harmonic properties of power signals to establish if a signal comes from one source, or from multiple cables which you can then trace and mark.
Dynamic Overload Protection, Rejects Unwanted Interference
Automatically filters out interference, enabling use in electrically noisy environments such as near substations or overhead power lines.
4 kHz Locate & CD, Optimized for Telecoms and Street Lighting
The 4 kHz locate frequency allows high impedance lines to be traced over longer distances. Combine 4 kHz with CD to improve trace accuracy in areas of dense infrastructure.
SideStep™, Interference Evasion
Shifts the locate frequency to survey in areas prone to interference or where more than one operator is working.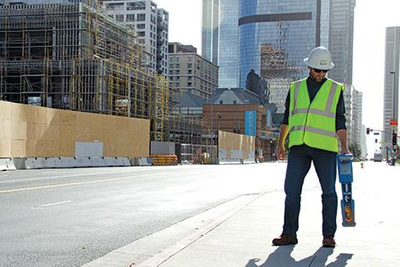 Technology Driven Best On-site Practice
RD8200 locators offer many features designed to drive correct usage, reduce utility damage, improve safety and enhance your reputation.
Swing Warning System, drives correct usage
Locators must be kept perpendicular to the ground for best accuracy. RD8200 locators have a built-in gyroscopic measurement system which alerts the user of excessive swing, driving correct usage.
Usage-Logging with GPS Positioning, Understand How Your Technicians Operate- The RD8200G locator automatically stores all locate parameters providing a comprehensive picture of field operations. Supervisors or health and safety personnel can analyze the data to assess usage patterns in order to ensure adherence to best-practice and to identify training needs before poor work habits develop. The information can also be shared with partners or clients to evidence task completion or compliance to service requirements. Usage data can be exported in multiple file formats – for example KML for Google Maps to confirm where and when work was performed.
StrikeAlert™, Minimizes Risk of Accidents- Visual, vibration and audio warnings, both in active and passive locating modes, of shallowed utility lines.
Vibration Feedback, Reduces the Chance of Missed Warnings- The RD8200 locator handle vibrates when alerts activate, leaving the operator to concentrate on the job at hand.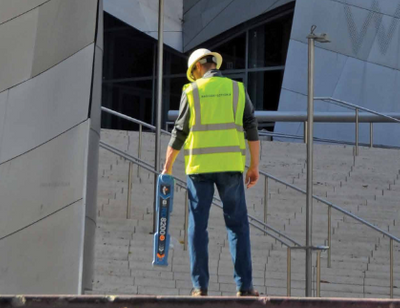 Ergonomic Design, Premium Quality- The RD8200 is a light yet rugged tool ready to operate in most difficult conditions, day after day. Radiodetection help is always at hand with our online support website.
Made in the UK – No Compromise on Quality- The RD8200 locator and transmitters are designed and manufactured in the Great Britain and are subjected to a rigorous test regime before leaving our factory.
Locate with Confidence – Self-Test- Confirm the integrity of the measurement system on-site. Self-test applies signals to the locating circuitry as well as checking display and power functions.
Use it All day, Day- after- Day; Light Weight and Ergonomic- The RD8200 has been design around the operator needs. The iconic industrial design provides an exceptionally well balanced, and light weight tool which is comfortable for extended periods of use.
Sun or Rain, Hot or Cold – Works in Harsh Conditions- IP65 rating and wide temperature usage (-4°F to 122°F / 20°C to 50°C) allow the RD8200 locators and transmitters to work in difficult weather conditions.
Knowledge Base and Technical Support, When You Need It- RD8200 offers a comprehensive knowledge base library which is available to consult online from a mobile device or pc. Find an answer to or ask technical questions 24 / 7 by using Radiodetection's support portal.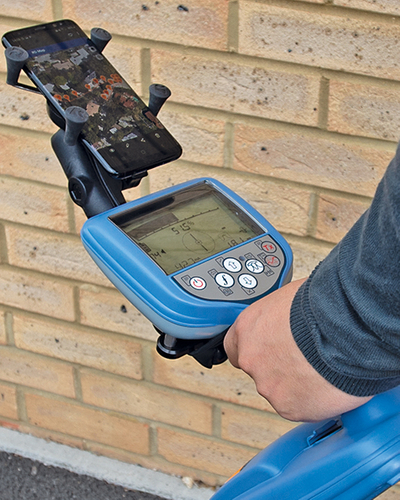 Advanced Features And Operations, Ready For A Connected World
Custom Frequencies, For Matching Your RD8200 to a Specific Telecom Network- Confirm the integrity of the measurement system on-site. Self-test applies signals to the locating circuitry as well as checking display and power functions.
Use it All Day, Day -after -Day – Lightweight and Ergonomic- Up to 5 additional frequencies can be programmed into your locator to match it to the signals found on your target networks.
Dual Bluetooth Connectivity, Ready for a Connected World- The RD8200 locator provides a dual Bluetooth system, which combines long range iLOC functionality and low power connectivity to deliver a system ready to connect to cloud based data solutions.
Fault Find Mode, for Pinpointing Cable Sheath Damage- Combine the RD8200 locator with an accessory A-frame to identify and locate insulation sheath faults to within 4" (10cm).
90V Transmitter Output, for Dry Ground Conditions and Deep or Long Locates- More locate signal on high impedance target lines.
Multimeter Function, for Optimum Connection to Your Target Utility-Assess your connection to the utility using your transmitter: quickly measure line voltage, current and impedance. This ensure best performance of your RD8200 locating system.
RD Manager for PC, for Easy Management of Your RD8200- Set-up, calibrate and update your locator from a PC. Download usage logging and survey measurement data for analysis. Create customizable KML files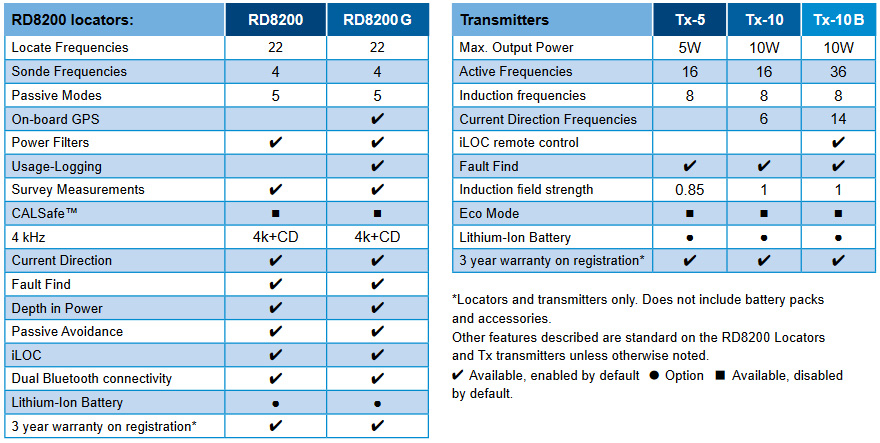 Most advanced precision locators: RD8200
Radiodetection's flagship ranges locate cables and pipes quickly and accurately to help increase operators' productivity and prevent damage to buried infrastructure