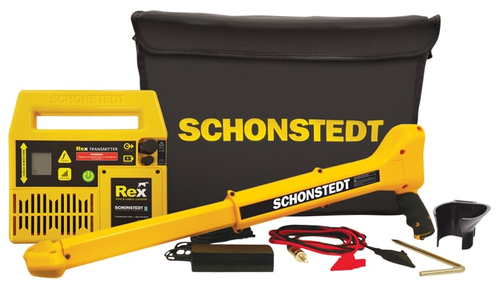 Schonstedt Rex Multi-Frequency Pipe & Cable Locator
The Schonstedt Rex is our newest underground utility locator for sale. Multiple frequencies allow you to find any type of underground utility, whether it be water, sewer, electric, telecom, or gas.
Rex Multi-Frequency Pipe & Cable Locator
Rex is Schonstedt's newest underground pipe and cable locator for sale, recommended for all underground utilities: water and sewer, electric, telecom, and gas.
Rex is a multi-frequency locator with a price tag comparable to single-frequency locators. The sleek design of the transmitter is less than 2" thick and weighs less than 4 lbs. At slightly over 7 lbs., the entire system fits easily into a custom shoulder bag.
Rex Standard Features
Ultralight Design: Receiver + Transmitter = Under 7lbs
Compact & Portable: Receiver retracts for easy carrying
Multi-Frequency Versatility: 512 Hz, 33 kHz and 82 kHz plus 50/60 Hz passive and 512 Hz sonde detection.
Schonstedt's 3-year warranty – Best in the industry.
OPERATING MODES
Conductive, Inductive, and Inductive Clamp
MAX. OUTPUT POWER: (CONDUCTIVE MODE @ 1000 Ω LOAD)
512 Hz - 1/2, 1, 2 or 5 W
33 kHz - 1/2, 1, 2 or 5 W
82 kHz - 1/2 or 1
BATTERY TYPE:
Rechargeable NiMH pack (12V)
BATTERY LIFE
8 Hours (intermittent use)
CHARGING:
Internal Smart Charger powered by AC/DC power adapter
DIMENSIONS
10" x 10.25" x 1.75"
(25.4 cm x 26 cm x 4.5 cm)
WEIGHT (INCL. BATTERIES):
OPERATING TEMP
-4°F to 140°F (-20°C to 70°C)
WATER AND DUST RESISTANCE
Rex Accessories
The following accessories are available for Rex:
Standard Headset (p/n: XT40000)
3″ Inductive Signal Clamp (p/n: TM60000)
5″ Inductive Signal Clamp (p/n: TM60001)
7″ Inductive Signal Clamp (p/n: TM60002)
Large Heavy Duty Clips – p/n: TM70001
Small Heavy Duty Clips – p/n: TM70002
Sondes:

512 Hz Sonde (p/n: TM50910)
512 Hz Micro Mini Sonde (p/n: TM50911)

Transmitter Battery Replacement Kit (includes Spare Battery, Spare Charger, & 4 Screws) (p/n 600072)

Components also sold separately: Spare Battery (p/n FD50040) & Spare Charger (p/n 600071)