Schonstedt Maggie Magnetic Locator
The Maggie magnetic locator by Schonstedt offers the best magnetic utility locating features on the market. Durable and handheld, it builds on Schonstedt's flagship products to offer sensitivity, precision, and single-handed operation.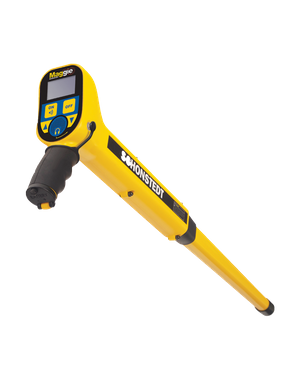 Maggie Features
The Maggie combines the best features of two flagship Schonstedt products: the sensitivity and precision of the GA-52Cx, and the single-handed operation of the GA-92XT.
Highest Sensitivity
Ergonomic & Durable
Dust & Water Resistant (Rated IP54)
Easy access battery removal
Expanding bar graph indicates polarity (positive or negative) and relative signal strength
HeliFlux® sensors
Modular construction and high performance components
Includes a soft-case and sling for ease of carrying through rough terrain, hands-free
7-year warranty
AUDIO OUTPUT
Signal increases in frequency with gradient field intensity. Idle frequency = 10 Hz
DISPLAY OUTPUT
Expanding bar graph indicates polarity (positive or negative) and relative signal strength
GAIN MEMORY
Gain defaults to Medium when powering off/on
VOLUME
3 Levels: Muted, Medium, and High
BATTERY LIFE
24 Hours (intermittent use)
OPERATING TEMPERATURE
-13°F to 140°F (-25°C to 60°C)
WEIGHT
Approximately 2.6 lbs (1.2 Kg)