Sensors and Software LMX200™

LMX200™ is the Premier Ground Penetrating Radar (GPR) Utility Locating Equipment in the market today.
The Radiodetection LMX200™ provides unprecedented insights and target confidence to detect traditionally non-locatable subsurface features such as:
Non-metallic pipes, including PVC and asbestos cement
Underground Electrical Cable
Concrete storm and sewer systems
Utilities where installed tracer wiring has failed
Underground storage tanks and drainage tiles
Septic system components
Non-utility structures such as vaults, foundation walls and concrete pads
Public utility systems and local governments require that the positions of underground systems are located and marked. This helps in planning projects and avoiding risks and hazards. The LMX200™ builds on the capabilities of the LMX100™ and adds further features to help you locate and map these utilities. It adds the powerful Grid Scan mode and the ability to use an external GPS to take full advantage of SplitView and MapView. The LMX200™ Enhanced upgrade also allows data export for post-processing, archiving, reference and further mapping capabilities.
LMX200™ for Forensics
LMX200™ uses ground penetrating radar (GPR) technology to enable law enforcement to quickly and effectively search/survey for evidence buried under the ground.
The advantage of GPR compared to other commonly-used subsurface search technologies, such as metal detectors, is its ability to detect both metallic and non-metallic objects. LMX200™ can locate:
Clandestine graves
Drugs or money buried in metal or plastic containers
Buried weapons and ammunition stashes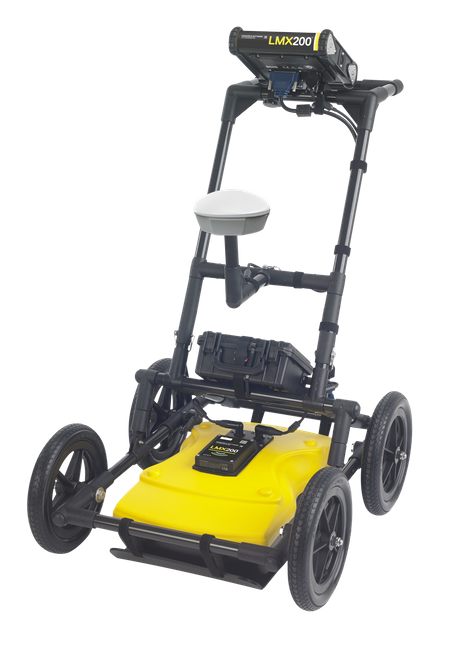 The Simple, Affordable Way To Locate & Mark™ Utilities In The Field
High visibility touch screen display unit
Free lifetime system software updates
User selectable languages
Metric and US Standard units
GPR Sensor
Patented ultra-wideband (UWB) 250 MHz GPR antenna
DynaT™ for Dynamic Target enhancement
Offers perfect balance of depth penetration (up to 8m/26 ft) & high resolution
Lead Acid Gel Cell Battery - Long lasting and swappable
Produce instant on-site reports from your display unit
Integrated GPS receiver for geo-referencing data
Lightweight Fiberglass Cart Frame - No metal parts that would interfere with GPR signals. Rugged, all-terrain cart with integrated odometer, easily maneuverable over any surface.
USB for easy data transfer
Built-in Wi-Fi capability
Most advanced precision locators: Sensors and Software LMX200™
WATCH FEATURES OF THE Sensors and Software LMX200™