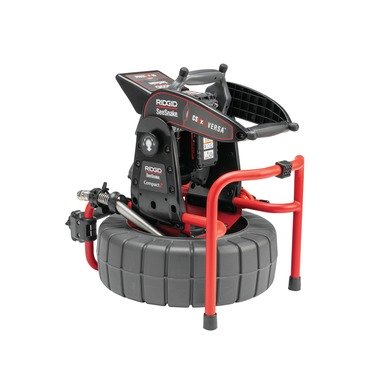 RIDGID SeeSnake® Compact2 With VERSA Camera System
The RIDGID SeeSnake® Compact 2 sewer inspection camera combines portability and convenience with all of the accuracy you can expect from a RIDGID sewer camera system. 100' (30 m) of push cable with a 2.5" (63 mm) bend radius works together with a CS6x Versa monitor and self-leveling camera head to bring you the best sewer camera performance in a small package.
Features:
Quick-release docking system for fast, efficient job setup with the SeeSnake CS6x Versa monitor.
Sturdy metal frame provides a solid base that makes it easy to push and retrieve the cable.
Powerful FlexMitter® sonde has long range and preserves the camera's ability to make turns.
The Compact 2 comes in the popular Compact formfactor, combining a small package and all-in-one monitor capability (when used with the SeeSnake® CS6x Versa monitor).
The Compact 2 has 100' (30 m) of flexible push cable, providing good ability to fit in smaller diameter pipes and navigate through tight turns.