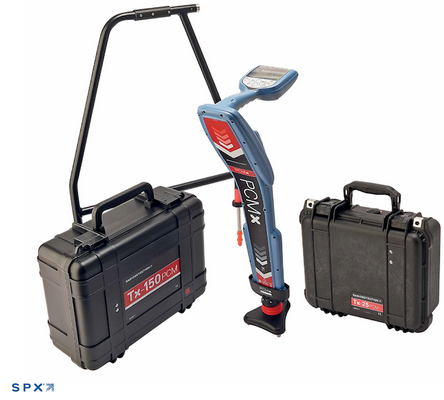 PCMx™ Pipeline Current Mapper System
Enables pipeline managers to identify and prioritize preventative maintenance on pipelines.
Working alongside industry experts, Radiodetection pioneered the first Pipeline Current Mapper over 20 years ago. It enabled surveyors to identify possible sources of external corrosion on inaccessible pipelines, including those buried beneath rivers and highways. Since then, it has become the tool of choice for many organisations to locate and pinpoint coating defects.
PCMx builds on this pedigree, harnessing the power of Radiodetection's most advanced locator technologies to deliver faster results, simultaneous survey measurements, and integrated GPS positioning.
Five reasons to purchase a PCMx
1. One Second Mapping Measurements
With each mapping measurement only taking a second, survey times are reduced. Integrated GPS ensures each measurement is captured with positional data.
2. Two Surveys in One Pass of Pipeline
Conduct both ACCA and ACVG surveys with one pass of the pipeline. PCMx pipeline mapper allows you to collect both measurement types simultaneously, reducing survey time and getting results faster.
3. More information at your fingertips
Radiodetection's Peak+ technology guides you to your target pipeline quicker while the compass display ensures correct alignment. Simultaneous depth and current measurements give you confidence that you are following the correct line.
4. Faster Results
A mobile (android) companion app allows users to chart results in the field, improving on-site analysis. Walk back and walk forward features gets you to your next measurements quicker. An additional PC app offers improved charting tools.
5. Improves Ergonomics
With a balanced design and lighter weight, (2.2kg, 4.8lb), the PCMx pipeline receiver is easier to carry over long distances. The convenience of a Li-Ion rechargeable battery pack ensures extended lifetime.
PCMx: The Faster, More Convenient Survey System for Corrosion Control
Faster Surveying for Quicker Results
Increasing number of pipelines, aging infrastructures and more rigorous guidelines result in growing pressure for corrosion specialists to complete surveys and analyse results quicker. The new PCMx pipeline current mapper system has been designed to meet these challenges with faster measurements and greater portability.