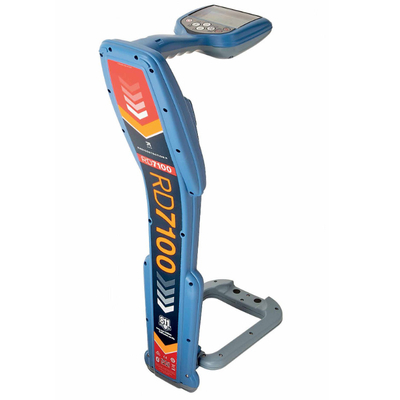 Radiodetection 7100 MRX Marker Ball Locator
Delivers fast, accurate marker locating as well as the ability to locate cables and pipes.
Radiodetection's new range of precision locators builds on the high-performance and ergonomics of the RD7100®+ platform and is aimed at locate professionals and utility companies who need to detect utility RF markers (also known as EMS or Omni-marker) alongside buried infrastructure.
ATTENTION: The RD7000 have been discontinued by the manufacturer Radiodetection and replaced with the improved RD7100 locator system.
The RD 7100 MRX Ball Marker Locator Video Demonstration
Featuring TruDepth™, Radiodetection's unique automatic depth measurement system, and combined utility and marker locating mode, the marker locator range delivers faster and more accurate surveys.
Interfacing to maps and GIS systems is simpler thanks to internal GPS capabilities and convenient Bluetooth® and USB connectivity. The built-in GPS option, allows to conveniently add positional data to survey measurements without the need to carry additional equipment. All locators feature Bluetooth to allow automatic measurements transfer to external device.
Monitoring usage, improving best practice and providing proof of work is delivered by the automatic data logging on selected models. Every second key locator parameters are saved into the unit's non removable internal memory for later retrieval and analysis using the convenient and reliable USB connection and RD Manager™, the PC companion of the marker locator range. GPS models will also add the benefit of proving survey locations.
ATTENTION: The RD7000 have been discontinued by the manufacturer Radiodetection and replaced with the improved RD7100 locator system. Click here to learn more about the RD7100.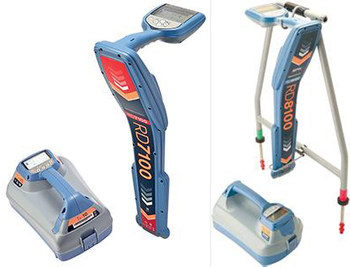 Limited Time Offers
Trade in any Radiodetection locator or any non-Radiodetection locator and receive 10% off of a new RD7100 or RD8100 locator kit.*
Call us at 513-922-7444 to take advantage of the offer or for more information.
Main Benefits:
Detect all commonly used RF utilities ball markers with automatic depth estimation for faster and accurate surveys
Combined mode to scan simultaneously for cables, pipes and RF ball markers reducing surveying time
Bluetooth connectivity as standard to interface to external devices and GIS systems
Testimonial
Steve,
I would like to thank you for helping Evergreen with some training on our RD7000…Roger Lewis spent some time with four of us explaining how the locator worked and even had us use it outside. Just want to add that Roger was very knowledgeable and answered all of our questions in detail and not with just a yes or no answer, he really explained his self very well and thanks to him we are all more confident in our ability to use the locator. Please thank Roger for us and we will definitely keep you guys at the top of our list for any future needs.
Thanks again,
Tim Overbee