Locating, Inspecting, & Fault Finding Utilities Equipment for Electric, Gas, Water, Sewer, and Data
Tanner,
Just wanted to take a moment and send over some appreciation. That was a great presentation and all of us learned a lot from it. It was nice to hear from someone who really understands how that machine works. I apologize, some of our older guys don't understand the concept of listening and not interrupting, haha. Thank you again, you know your stuff!
- Timothy S., West Bloomfield Water Utilities Department
I personally feel that Ron and Roger should give classes to other companies on customer service. Besides exceptional customer service, their technical knowledge and how to teach it is beyond compare. In all the years I've had to deal with contractors and businesses in the water and waste industry, these guys are way above them. It was a pleasure to not only be treated well as a customer, but to also have my training revamped and updated by these humble, generous technicians. Thank you Roger and Ron - hope to do business for many years to come.
- Mike S.
Very prompt, professional service. From the original request for a service ticket, to repair, to invoicing and shipping, these folks are fast. We've done business with them for years, and will continue to for all our locator needs.
- Jeff Z.
Tanner,
Thanks for coming out and assisting me with the locating issue I had the other day. Your knowledge of the RD locators was very helpful. I've been in the staking business for 22 years and I learned a few things working with you. I'm glad you brought the 8100 along. I was able to see it perform on a problem locate. I have been hesitant to buy one because of the price, but see the value of having a couple of these units. I will be purchasing at least two of these in the near future. I appreciate your willingness to help me solve staking issues in the past.
Ken L, Western Telcom
C&S are my go to Locator/Repair Company. My duties are to make sure all of the RD-8100's are in working conditions for all of the jobs that they are being used for. I have sent RD-8100's, dirty, broken, missing parts, bad batteries, in need of calibration, no bags, etc. C&S turn around is amazing, cost are very reasonable, considering how much a new one would cost. Can not argue with the repair charge. These guys are great, time is money and my job is to make sure there is no down time. Thanks guys for helping me every time I need you.
Cathy from Meade Electric
Great company service! They truly care about your needs and will get you what's best for your needs! One of the very best support companies I have had the pleasure to use, they help our company in so many ways! Want to say a big thank you to their team!
CCSI
Local equipment and great training advice.
Town of Geneva, Indiana
Excellent products and outstanding knowledgeable service, long after the purchase. Always willing to help!
Reliable Leak Detection
Steve and Jeff are easy to work with and talk to about my locating and camera equipment. They are always able to solve my problems me way or another. If I have a piece of equipment down, they can usually turn it around very quickly and if not, they have a loaner until my equipment is finished being repaired. They have always been a pleasure to work with and I hope that relationship continues in the future.
Tischbein
I'm writing this review with great appreciation for all the help received by Tanner Peterson from C&S Solutions. I was having issues locating with our radio detection locator so I made one call and we scheduled a meeting on site. Tanner showed up on time, was very professional and within a short time all problems were solved. Thank you for taking the time to train me and my crew the proper way to use our locator.
THANK YOU
Ryan B., MCEU Foreman
Steve and Tanner,
I want to thank you guys for taking the time to help support my group of technicians on using the RD8100 locating equipment. This helped put us in a better frame of my mind with the equipment and what we will need it for.
Michael C.
Supervisor, Gas Operations
Trans/Stor/Gath HP Design
Thank you. You & the team at C&S Solutions are the greatest!!
Steve,
We had Tanner up to our office last week to run our crews through a refresher course on using the locators in the field and he did a fantastic job! We had guys who had previously been trained multiple times walking away from his demo with a much better understanding of the principles and techniques of using the locators in the field. The guys really appreciated his efforts.
Thanks again
Ron,
We appreciate every thing you do for us and all that C&S offers.
Thank you
Jim R.
Superintendent
Kaltz Excavating / MUE
Tanner,
I would like to take the time to say thank you for coming out and explaining how the City's locator works along with all it's different features. My coworkers and myself thought you were very informative and knowledgeable. So again, thank you and I'm sure we'll be contacting you in the future.
Tim S.
Water Dept. Lead Operator
City of Dexter
Tanner,
I just wanted to follow up and thank you again for coming out to our facility last Friday. We certainly appreciate all your knowledge and information pertaining to our locator. I feel bad that the traffic was so horrific!
Have a great week!
Tanner,
I just wanted to reach out, to again say thanks for the training you provided last week. That was way above and beyond the call of duty. Rest assured when we are in the market for new equipment you will be at the top of our list.
Thanks again,
Joe
Electrical Foreman
Baldwin Wallace University
Roger,
Thanks for taking the time to give our guys some more locating advice and equipment settings.
All the guys gave you a thumbs up on the training you supplied.
Thanks!
Mark
Professional Surveyor, Team Fishel
Steve,
I just wanted to write you a quick note. Your man Roger Lewis really did a great job with our training today. He is very knowledgeable and has an easy style that works well with our folks. Just what I had hoped for – good training for our less experienced employees and great tips for our more experienced ones. Well done and Thank You!
Andreas W. Eddy

Public Utilities Superintendent
Steve,
Just wanted to thank you again for coming down to Norris for the training. I asked all the guys and we all were very satisfied. You provided several tricks and explanations that I was never taught and I wish we had you come down years ago. Please come back and visit any time you're in the area.
Katie
Tennessee Valley Authority
Steve,
Fastest turnaround in modern times. Locator shipped off and back to work in three days?? Unheard of.
Shirley,
When I get poor service from a company I will sometime call them after the fact and let them know. As is the same when I get good service. Fortunately for you and me, your company is the latter.
A while back I called your technician Jeff Favia with a problem I was having with on of my sewer cameras. He did his best to walk me through the repair over the phone, and I did the repair as he said and it worked. The other day I was having more trouble with the camera. I called Jeff and he did his best to diagnose the problem over the phone, but we discovered that I had no choice but to send the camera into him. I air freighted the item there and sent him an email letting him know that I was in kind of a panic to get it back. I am sure most of your customers are in the same situation. As soon as the item arrived to Jeff, he fixed it and had it on the way back to me.
When I get service like that, it makes being in business so much easier. Please give him a pat on the back for me. I look forward to doing more business with your company.
Lionel Olynick
Infrastructure in Saskatoon, Saskatchewan, Canada
Steve,
Thank you very much sir! I'm sure you will be needed again - your knowledge of the locating process was priceless. Your machine was great but knowledge is the greatest gift anyone can give. God bless you!
Warren Williams
Spectra Energy
Ron,
C&S Solutions has continually impressed me with their response time to my communications and their efficient and effective repairs of our equipment. Our team utilizes several products represented by C&S on a daily basis thus we experience the need for repairs consistently. C&S has always gone above and beyond to respond to my communications, offer loaner equipment to keep our teams running and repaired the broken equipment quickly. I am impressed and thankful for the customer service values obviously present at C&S. Great work!
Chris Moore
Regional Director
Florida / Gulf Coast Division
Thank you for all of your help. Tony and Bob really appreciated your​ training them. It helped them a great deal.
Chrissy H.
Safety Director
Jess Howard Electric Company
I highly recommend the Radiodetection RD8100 model that I currently have. (there may be a new model out now)
I purchased mine from Steve Beale at C&S Solutions, INC out of Cincinnati
Steve is great at coming on site to train as much as you need and in demonstrating the different models they have.
David Kendrick
Senior AutoCAD Technician
Wright State University
Engineering and Construction
Steve,
Just wanted to say thanks for making the trip to Steubenville. Our guys said they have a much better feel for the locators and are much more confident using them.
Tom Hollingsworth
ArborMetrics Solutions,Inc.
Steve,
I want to thank you for coming to Hudson and giving a refresher training course on our Radio Detection and Fault Wizard Equipment. Your training will prove to be beneficial to our operation and especially appreciate your quick response to our needs. We have a few linemen here that don't operate the equipment every day in their work duties and they felt a little "rusty" on the line and fault locating procedures. Your training was very informative and left us all with the confidence in the equipment that we are using to locate electric lines and cable faults.
In the many years that I have been in the purchasing position I must say that it has been a pleasure to work with you and your staff. I have always received an answer to my questions over the phone from your staff or a callback from you within an hour. From my position it's always comforting to know that I can pick up a phone and have a problem solved without a delay.
Jeffrey Fullerton
Purchaser, Hudson Public Power
Steve,
Thanks for meeting up with me and bringing out the GPR to Jackson both for delivery and demo. I've spent the last two days swapping out batteries and charging them because I have been running the machine ragged just playing with it and getting use to the settings and figuring out what settings for different terrain and soil conditions. So far in the first 24hrs, I have really started to dial it in and get some good return/images.
Thanks again for the selling the demo and working with me on this item!
Tom Alsip
Alsip Locating Services
Steve,
It is hard to believe we have been working with you guys for a little over 5 years now. I can't imagine where we would be if we did not have the RD's. They have really improved the services that we have been able to provide to our customers and I am convinced they have paid for themselves many times over. Without a doubt, there have been many situations where the RD has saved the job.
I know that we are your customer, but we definitely view this as a mutually beneficial relationship. We genuinely enjoy working with the team and I feel that they had our best interests in mind when we go to them with any questions or for training. While your note conveying your appreciation for the business we do with you, I just wanted to take a minute to say that we appreciate the job and the service you guys provide to our company.
Sincerely,
Matt Aston
President, GPRS
I wanted to formally take the time to say thank you. I really appreciate your time and help this past morning. My guys were telling me that within a few minutes you and your equipment were on the mark locating a fire line for a local business. We had doubt with the path of the fire line location, but you prevailed!! I will only give positive references for you and the company.
C & S Solutions, www.locatorguys.com did a great job in a few minutes for this project that has been going on for us over a year. Thanks Steve.
And thank you to MRWA and Chuck Klies for his tenacity and finding C & S Solutions at the Ionia Expo and sharing the information and contacts with us.
Dennis B.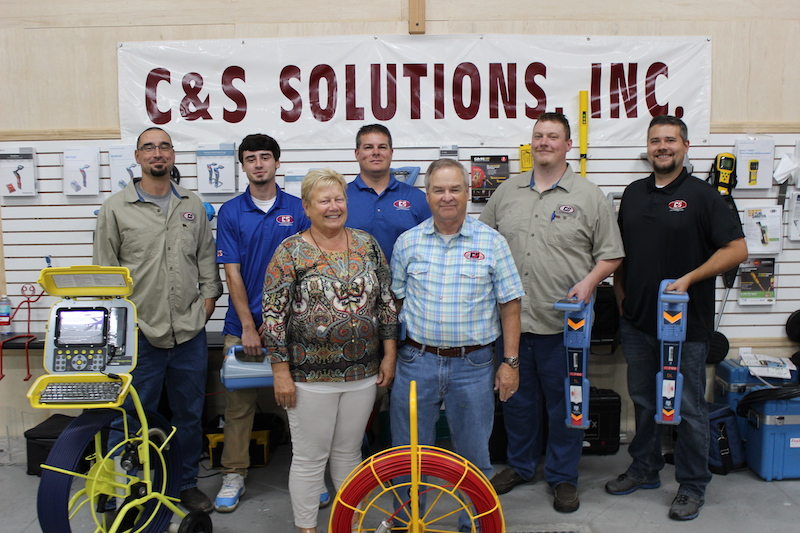 Fill out the form below to leave your own testimonial