High Cube Trucks, Vans & Trailers
Aries vehicles are custom designed to meet your specific inspection and rehabilitation equipment needs. We offer high cube trucks, vans, trailers—each featuring a state-of-the art control room and work space designed to provide comfort, safety and high productivity.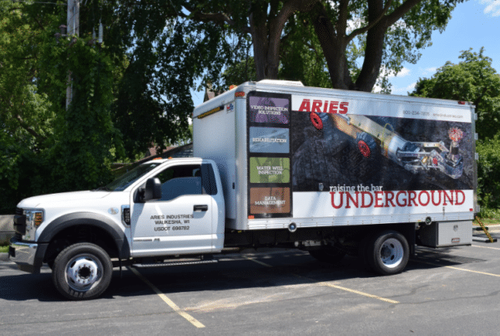 A Wide Variety of Platforms and Styles
Aries Industries vehicle systems provide a professional platform for sewer inspection and rehabilitation operations. Designed and built to meet specific end-user needs, our units are recognized for their high-quality workmanship and layouts focused upon maneuverability, comfort and safety.
Control Center Benefits:
Electric control system mounted in a custom-designed electronics rack
Maximized workspace for operator convenience
Built-in desk mounted controllers strategically located for operator efficiency
Custom cabinetry with adjustable shelving to meet operator needs
Padded bench seat for observer comfort with storage underneath
Air conditioner with built-in heater strip provides operator comfort and equipment cooling
Exterior Benefits:
Roof-top strobe lights for road and operator safety
Floodlights mounted above the rear doors for inspection during low-light conditions
Hi-cube Aero Cap option is available to provide full walkthrough, cab to control room
Equipment Platform Benefits:
Heavy-duty diamond plate flooring and kick plates for long-term wearability
Large equipment room for equipment storage and a clean/safe floor space
Heavy-duty workbench and vise for equipment maintenance
Cable reel with self-aligning roller bearing system for easy cable payout and long tractor pulls
Up to 2,000' of coax cable for line inspection up to 4,000' from one entry point
Built-in cable guide for inspection of offset and easement line sites
GFI plug outlet system for operator safety
Wall-mounted storage brackets keep cables and equipment off of the floor
Convenient storage for equipment retrieval/extraction assembly allows for easy, quick access to increase production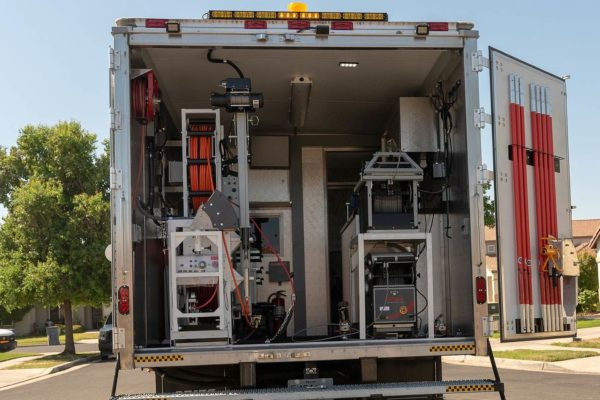 Inside of an Aries High Cube Truck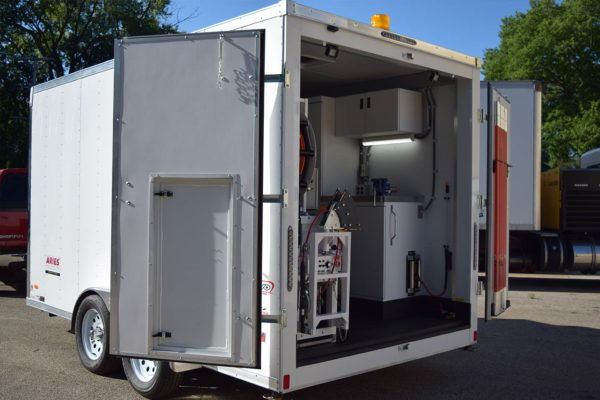 Aries Customized Trailer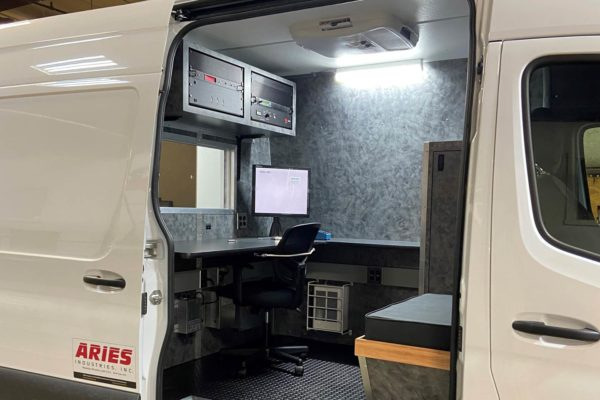 Aries Van with Control Room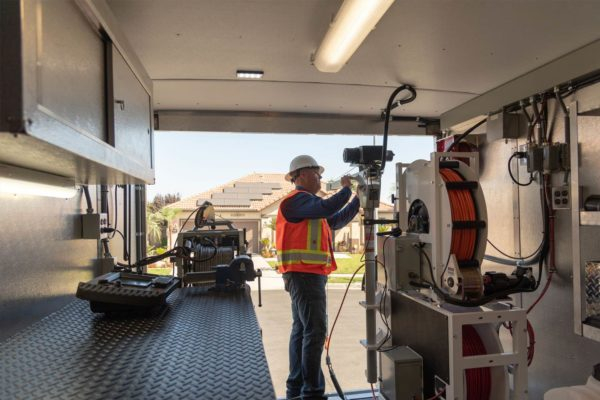 Aries Truck Ready to Clean Pipelines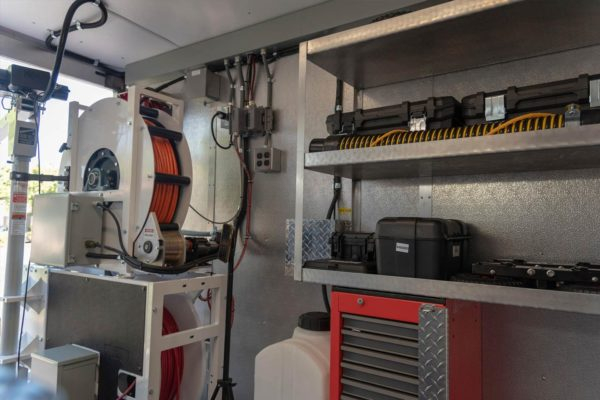 Interior of Aries Truck with Sewer Equipment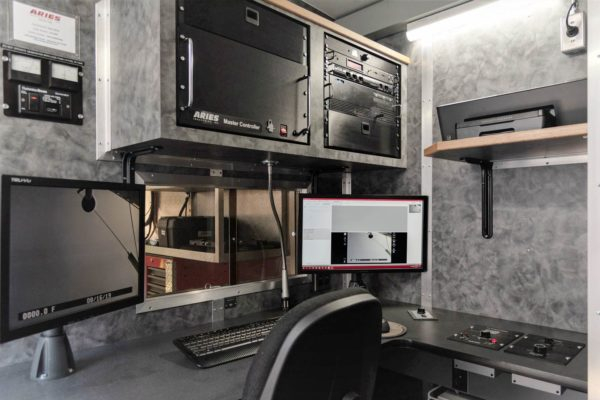 Interior of Aries Truck Control Room
Aries Industries teams up with C&S Solutions
C&S Solutions Inc. has been in service since 2001 and partnered with many top-of-the-line brands that provide underground utility locator equipment, metal detectors and sewer camera systems. Aries Industries wanted to strengthen their US market reach and C&S Solutions Inc. made the cut which allows us to not only serve Ohio, but Michigan as well! We here at C&S Solutions are beyond grateful that Aries Industries added us to their family of dealerships, as it is not easy to land on top of their list! Jim Kraschinsky, Vice- President of Sales at Aries Industries said, "We only partner with dealers who are as committed to outstanding customer service as we are." He also made it very clear that the process was one in which it was very selective and a diligent process. Further noting that, "C&S Solutions meets our exacting criteria to provide Aries customers in their regions a great Customer Experience."
Aries Industries, which was founded in 1985, is the industry leader in manufacturing durable video pipeline inspection and rehabilitation systems. Plus, data management software to meet the toughest challenges of underground infrastructure and environmental applications. It is with great excitement that we offer a full line of Aries Industries equipment. For any questions or inquiries, please feel free to contact us to get unmatched customer service and video pipe inspection that can't be touched!