LETS 6.0
The LETS 6.0 lateral inspection system is versatile and powerful, setting up quickly to navigate a range of pipe contours in mainlines 6″ or larger. The tractor is equipped with a camera to observe mainline conditions and monitor the lateral camera launch. A contoured chute enables the lateral camera to be easily deployed with or against the flow at a 135-degree launch angle.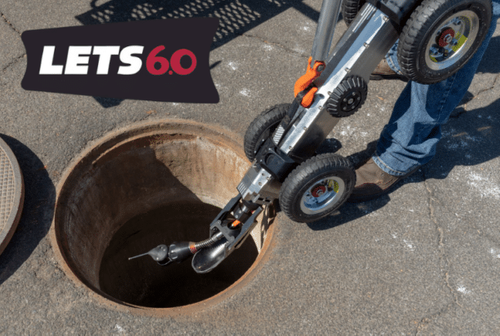 Designed for Agility
Slim, unibody tractor to traverse pipes
Multiple wheel configurations to match pipe conditions
Contoured chute to launch the lateral camera with or against the flow
Lateral camera easily navigates pipe bends
Application
Inspect laterals to 150′ from 6″ diameter and larger mainline pipes
Tractor
Powerful tractor with forward, reverse and freewheel movement
Over-voltage protection prevents damage to the main motor drive
Tip-up connector for easier pipe insertion with less cable strain
Standard six-wheel configuration operates in 6″-12″ mainline
Optional Large Line Kit operates in 15″-30″ diameter pipe and larger
Controller
A dual joystick Xbox One® controller operates tractor and cameras
The system also works with legacy controller
Cameras
Forward-facing camera captures mainline video and monitors lateral camera launch
Choose from a self-leveling lateral camera or a Pan & Tilt camera
Integrated 512hz locating beacon
Telescoping chute with five discrete positions provides easier lateral launching in larger pipes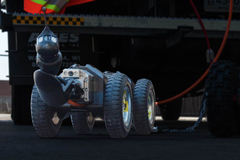 LETS 6.0 Lateral Inspection System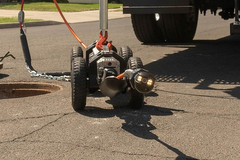 LETS 6.0 Lateral Inspection System with Lights On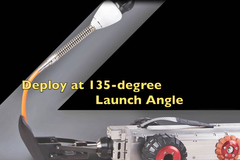 LETS 6.0 Lateral Inspection System Launch Angle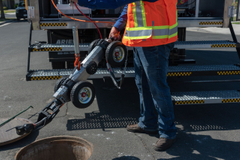 Worker Inspecting Sewer with LETS 6.0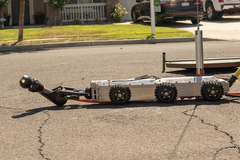 LETS 6.0 Lateral Inspection System
Aries Industries teams up with C&S Solutions
C&S Solutions Inc. has been in service since 2001 and partnered with many top-of-the-line brands that provide underground utility locator equipment, metal detectors and sewer camera systems. Aries Industries wanted to strengthen their US market reach and C&S Solutions Inc. made the cut which allows us to not only serve Ohio, but Michigan as well! We here at C&S Solutions are beyond grateful that Aries Industries added us to their family of dealerships, as it is not easy to land on top of their list! Jim Kraschinsky, Vice- President of Sales at Aries Industries said, "We only partner with dealers who are as committed to outstanding customer service as we are." He also made it very clear that the process was one in which it was very selective and a diligent process. Further noting that, "C&S Solutions meets our exacting criteria to provide Aries customers in their regions a great Customer Experience."
Aries Industries, which was founded in 1985, is the industry leader in manufacturing durable video pipeline inspection and rehabilitation systems. Plus, data management software to meet the toughest challenges of underground infrastructure and environmental applications. It is with great excitement that we offer a full line of Aries Industries equipment. For any questions or inquiries, please feel free to contact us to get unmatched customer service and video pipe inspection that can't be touched!