Voyager™ HD Mainline Inspection System
The Voyager HD Mainline Inspection System is a high definition video system for inspecting mainlines relined 6″ or larger. The complete system includes a powerful transporter, a full HD 1080p WiperCam camera, and 1200' cable reel — controlled by CANbus technology for instant crawler and camera response. Components are operated by an ergonomically advanced dual joystick controller and reel-mounted pendant.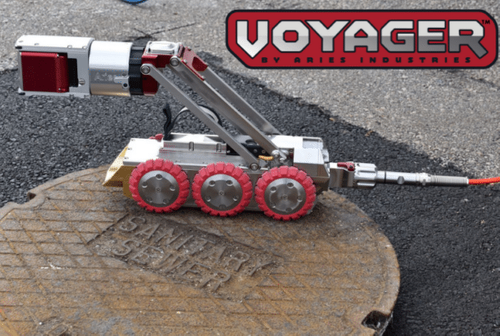 Voyager™ HD Mainline Inspection System Features
Crawler
Proportional steering crawler fits re-lined 6"– 36" (future up to 72") pipes
Standard motorized camera lift with internal gearing
Digital CANbus controls for instantaneous crawler & camera response
Autonomous time-saving functions such as auto-drive to waypoints & auto-retrieve
Tool-less camera attach/detach with rugged connector
Tool-less cable attach/detach
Tough, reflective Kevlar lift strap with deployment loop
HD backup camera
Camera
Pan & tilt, 120x zoom HD camera captures and transmits excellent quality, HD video (1080 x 1920px)
Front camera bumpers
In-the-pipe Aries WiperCam lens cleaning system with field-replaceable wipers
Optional dual camera lasers for accurate crack measurement
Desktop Controller
Ergonomic controller with keyboard and dual joysticks
Responds to multiple controls simultaneously
Graphical crawler roll-angle display
Rollover risk alerts
Loss of seal integrity alerts with proactive internal pressure, temperature & humidity monitoring
Crawler speed display
Future: Ability to record in standard definition
Pendant
Control tractor, reel & camera at the manhole with handheld pendant
Cable Reel
Truck-mounted reel with 1200 ft of 6-conductor cable
1200-pound pull strength
Simple 6-wire reel termination
Cable management with electronic clutch responsive to crawler movement
Street-accessible reel controls with emergency stop button
Quick one-button downrigger deployment
Level wind with footage counter
Spring-loaded retractable cable rollers for easy cable removal
Field serviceable slipring
Removeable drip pan
Precisely adjustable drum tension control with caliper & floating rotor design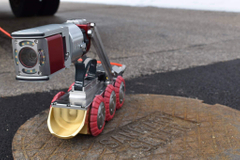 Voyager™ HD Mainline Inspection System Crawler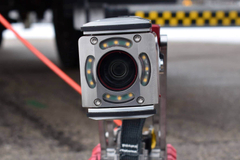 Voyager™ HD Mainline Inspection System WiperCam Camera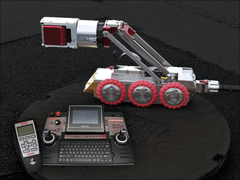 Voyager™ HD Mainline Inspection System Controller & Pendant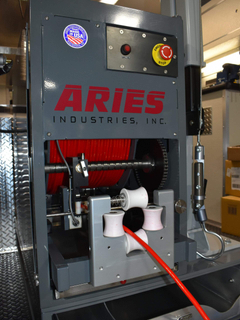 Voyager™ HD Mainline Inspection System Cable Reel
Aries Industries Teams up with C&S Solutions
C&S Solutions Inc. has been in service since 2001 and partnered with many top-of-the-line brands that provide underground utility locator equipment, metal detectors and sewer camera systems. Aries Industries wanted to strengthen their US market reach and C&S Solutions Inc. made the cut which allows us to not only serve Ohio, but Michigan as well! We here at C&S Solutions are beyond grateful that Aries Industries added us to their family of dealerships, as it is not easy to land on top of their list! Jim Kraschinsky, Vice- President of Sales at Aries Industries said, "We only partner with dealers who are as committed to outstanding customer service as we are." He also made it very clear that the process was one in which it was very selective and a diligent process. Further noting that, "C&S Solutions meets our exacting criteria to provide Aries customers in their regions a great Customer Experience."
Aries Industries, which was founded in 1985, is the industry leader in manufacturing durable video pipeline inspection and rehabilitation systems. Plus, data management software to meet the toughest challenges of underground infrastructure and environmental applications. It is with great excitement that we offer a full line of Aries Industries equipment. For any questions or inquiries, please feel free to contact us to get unmatched customer service and video pipe inspection that can't be touched!