Lexxi™ T1660 Time Domain Reflectometer
Provides an unrivalled combination of performance, usability and economy.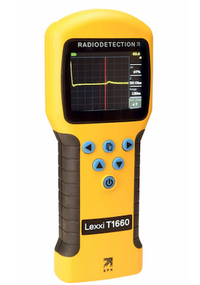 Product Information:
The Lexxi T1660 is an accurate, easy to use TDR for tracing first-line faults.
Designed for First Responders, the Lexxi T1660 builds on RiserBond's and Bicotest's decades of TDR experience to provide a cable tester whose accuracy, range and resolution gives technicians the tool they need to find faults quickly and accurately. It can be used across a broad range of applications including telecom, CATV and even live 3-phase LV power cables via the optional Category IV Blocking Filte.
Key Features:
1% accuracy
1% resolution
6km maximum range
3.5" 256 x 328 pixel color display
Standard Accessories, included with Lexxi T1660
Connection cables, Twisted Pair, Alligator Clips - 10/T1660-TP-ALLIG Lexxi T1660 bag, clear cover - 10/T1660-BAG
Optional Plug-In Module Accessories:
Mains Blocking Filter, 25, Cat IV - 10/T1660-BLOCK-MOD 50 Twisted Pair, Croc Clips - 10/T1660-TP-CROC-MOD-50 100 Twisted Pair, Croc Clips - 10/T1660-TP-CROC-MOD-100 75 BNC, including BNC-F adapter - 10/T1660-BNC-MOD-75