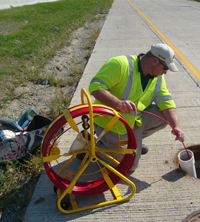 Duct Hunter Traceable Rodders
Duct Hunter Traceable Rodders are your non-invasive underground pipe locating solution. Copper trace wire in the rod means no digging or trenching, just user-friendly locating.
Copper wire inside fiberglass core is energized with an electromagnetic signal that is detectable above ground through the use of hand held signal receiver.
New Technology to locate your PVC gas services without a tracer wire with the Duct Hunter.
The Duct Hunter™ is a traceable duct rodder that offers a non-invasive solution for locating and mapping underground ducts and pipes. Save time by eliminating digging and trenching. The detectable fiberglass rod incorporates a copper trace wire that can be located at depths up to 10 feet. When used with a signal transmitter to energize the wire, an electromagnetic signal is then detected via hand-held receiver to trace the entire line. The Duct Hunter™ comes standard with a male end ferrule, pulling eye and accessory kit conveniently attached to the frame.
4″ Bend Radius
Locate sewer laterals to confirm no cross bore has occurred
Locate ductile iron, plastic, tile or concrete pipe
For use in conduit with an inside diameter between 1 and 2 inches
Includes 300 ft. of 1/4-inch diameter traceable fiberglass rod marked every 5 ft. (Metric every 1m)
Dimensions: 36.25″ x 24″ x 13″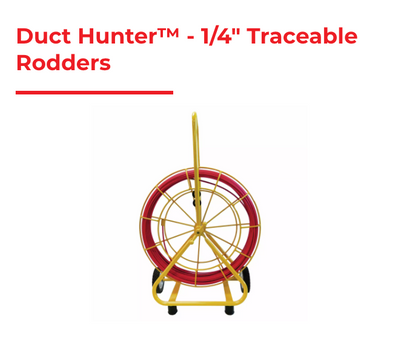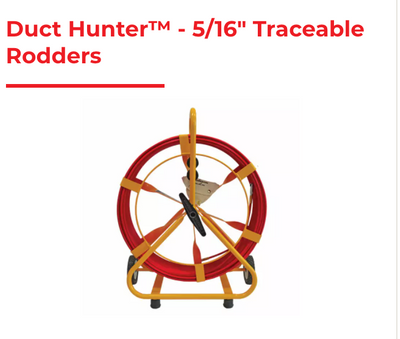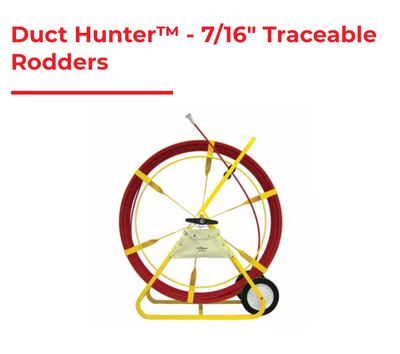 Take a Look at Our Duct Hunter Traceable Rodders
Duct Hunter™ Traceable Rodders
Locate with minimal excavation! Duct Hunter rodders have a copper wire in the rod that can be energized with a signal transmitter. The locator detects the frequency, allowing the entire buried utility to be traced and marked from above ground by one person.
Duct Hunter
5/16", 7/16", and 1/4" Rod Diameters in 300'-1,000' Lengths
Locate Ductile Iron, Plastic, Tile Or Concrete Pipe
Rod's ferrule attaches to sonde, roller guide or pulling eye
Accessory kit included
Jacob Arthur of Arthur Excavating in New Ross, IN, January 2014, "We use the Jameson Duct Hunter for locating field tiles in the mid-west. The product saves us a tremendous amount of time by allowing us to go out 600' at a time, mark it, dig it up and then start the process over. In the past we had been using push rods through the soil to try and locate the tiles, which required a lot of time and effort. The product is not inexpensive but is excellent quality and will pay for itself in no time."
Erik Hoefer, OSP Supervisor at Stayton Cooperative Telephone Company, February 2014, "We had tried a couple of other "locatable" rodders in the past and to be perfectly honest, they were high priced and useless for locating the path of conduit or finding a break. Sev was aware of my skepticism but he was persistent and happened to call me one day while we were out looking for the end of a "mystery" conduit. The Duct Hunter worked flawlessly and was simple to use. The first month after we purchased this unit it was used more than our previous (and extremely expensive) locatable rodder had been used in the past 8 years. We have since purchased additional Duct Hunter rodders and we plan to change out our non-locatable rodders to the Duct Hunter for our installation and repair technicians. SCTC has been installing spare conduits as part of every construction project we have built for the last 20 years. This rodder saves time and money every time we have a locate request where the locatable mule tape is missing or there is no other locatable product buried within the conduit path. It is the best locatable rodder we have ever used. Thank you."