Sensors and Software LMX100™

Rapidly Locate & Mark™ Metallic and Non-Metallic utilities
As one of the most affordable Radiodetection GPR utility locating tools in the market today, the LMX100™ completes the locator's toolbox, offering a more complete picture of the underground infrastructure. With a simple, easy-to-use interface it also offers the perfect balance of depth penetration and high resolution for accurate locating.
The LMX® family is a non-destructive Ground Penetrating Radar (GPR) that can locate utilities that cannot be located using traditional methods (e.g. plastic pipes or utilities that contain broken tracer wires).
LMX® has the advantage of detecting:
Metal utilities, including pipes and cables
Non-metallic pipes, including PVC and asbestos cement
Concrete storm and sewer systems
Utilities where installed tracer wiring has failed
Underground storage tanks and drainage tiles
Septic system components
Non-utility structures such as vaults, foundation walls and concrete pads
LMX100™ for Forensics
LMX100® uses ground penetrating radar (GPR) technology to enable law enforcement to quickly and effectively search/survey for evidence buried under the ground.
The advantage of GPR compared to other commonly-used subsurface search technologies, such as metal detectors, is its ability to detect both metallic and non-metallic objects. LMX100™ can locate:
Clandestine graves
Drugs or money buried in metal or plastic containers
Buried weapons and ammunition stashes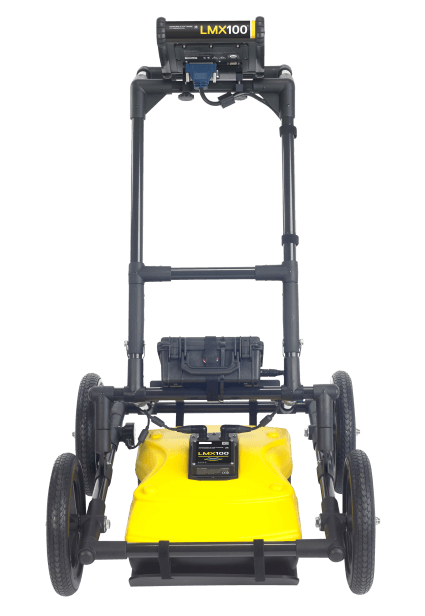 The simple, affordable way to Locate & Mark™ utilities in the field
High visibility touch screen display unit
Free lifetime system software updates
User selectable languages
Metric and US Standard units
GPR Sensor
Patented ultra-wideband (UWB) 250 MHz GPR antenna
DynaT™ for Dynamic Target enhancement
Offers perfect balance of depth penetration (up to 8m/26 ft) & high resolution
Lead Acid Gel Cell Battery - Long lasting and swappable
Produce instant on-site reports from your display unit
Integrated GPS receiver for geo-referencing data
Lightweight Fiberglass Cart Frame - No metal parts that would interfere with GPR signals. Rugged, all-terrain cart with integrated odometer, easily maneuverable over any surface.
USB for easy data transfer
Built-in Wi-Fi capability
Most advanced precision locators: Sensors and Software LMX100™
WATCH FEATURES OF THE Sensors and Software LMX100™