Hathorn Inspection Camera, Wi-Fi
Now with the Hathorn Wi-Fi reels, you can complete pipeline inspections without the use of a traditional monitor. The Wi-Fi reels send a Wi-Fi signal directly to your mobile device, allowing you to record and save high definition video of your pipeline inspections directly to your photo library.
AVERAGE PRICING STARTS AT $6000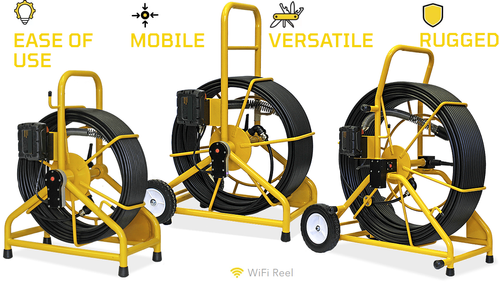 Multiple reel sizes, pushrod diameters and camera heads are available.
Key Features:
Monitor free reels, NO cords, NO heavy monitor cases, NO screens to damage.
Easy wireless video transfer from reel to mobile device.
On screen resettable footage counter.
512Hz powerful SONDE transmitter.
Auto iris camera element automatically adjusts picture lighting.
Connect multiple devices at once.
Record in high compressed video, easily manage video files and snapshot pictures.
Videos and pictures area saved right in your picture app.
Downloadable Wi-Fi App.
A quick tutorial on our popular Wi-Fi Camera Reels: Hathorn Wi-Fi DuraSCOPE™ reels are designed to work with Wi-Fi PipeSTREAM™ stream/record, using an app for Apple or Android. Stream video inspections directly to your mobile device; record, screen shot, make voice commentary and share video inspections seamlessly. All of these municipal grade Wi-Fi reels are compatible with 18V Milwaukee™ or equivalent batteries for the ultimate in portability. Each reel is fi tted with your choice of DuraCAM™ self-leveling or straight view camera heads, all equipped with super bright cool running LEDs, for optimal HD picture quality. Butt welded steel frame construction, stainless steel camera heads, your choice of cable size, and Hathorn's legendary reliability allow you to push further than ever before and remain in the fi eld longer. Hathorn Wi-Fi DuraSCOPE™ camera reels are trusted by plumbers, municipalities, general contractors, home inspectors, petrochemical companies, and mining engineers to deliver a high defi nition, recordable video inspection every time the camera is used.

Hathorn Camera takes unbelievable abuse and continues to work