P340 Flexiprobe™ Pushrod Inspection System
This is a discontinued product. Please see the NEW P550C
--------------------------------------------------
Delivers high quality pipeline surveys in a flexible and durable package.
The P340 Flexiprobe is the best push camera technology in the industry, and the easiest push camera to use in the field today.
P340 Flexiprobe cameras are ultra-tough and high resolution. Users have the option of either a 1", 1.25" or 2" camera. The 2" camera has advanced self-leveling technology to keep the picture upright while navigating a pipe.
The ultra-bright 8" TFT screen enables you to view footage while in the field, and is protected by weatherproof housing. The easy-to-use software interface features an integrated report writer allowing you to organize data and produce reports more effectively.
The P340's portable, lightweight controller houses features such as digital rotate, pan, and zoom functions which allow you to focus in on problem areas during live or recorded inspections. One-touch recording can be used for videos and still images, and are automatically time- and date-stamped. All information is recorded directly onto an 8GB USB memory sticks for easy management and transfer. The device storage is able to hold up to 7 hours of high-quality video.
Each camera comes with a built-in rechargeable battery and a 200' or 400' rod with self-leveling color camera head- the RD7100 and RD8100 locating system will locate the camera head. Options include a range of 5 different reels from the extra-flexible 100' (30m) P341 Plumbers reel to the 500' (150m) P343 reel designed to push for longer distances.
Each camera comes with a one-year warranty and free on-site training. C&S Solutions is the factory authorized repair facility.
Key Features
In-built high capacity Lithium-Ion battery (P340+ controller)
One-touch recording to USB memory sticks and Compact Flash cards
Outstanding picture quality from toughened cameras
Super-flexible Plumbers system for residential and commercial plumbing
High quality digital video with digital pan and zoom
Inspection reports prepared on-site with integrated report writer
Weatherproof, robust and truly portable
C & S Solutions now offers service and repair on this product. Please contact us for more information.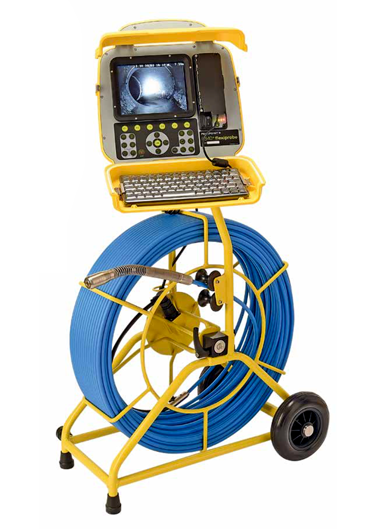 Five reasons to purchase a P340 Flexiprobe System
1. Portable Controller
Light-weight controller with built-in rechargeable battery, weatherproof, and easy to use.
2. Digital Recordings
The fully digital controller system architecture provides precise control over inspections and recordings. Digital rotate, pan, and zoom functions let you focus in on problem areas during live or recorded inspections.
3. One-touch recording and still picture capture
A single key press on the ruggedized keypad records high quality, fully digital videos, which is automatically time and date stamped and logged against the job that you are working on. Similar, still pictures can be captured, inspected, and filed at any point during your inspection with a single key press.
4. USB Flash Drives
The Pearpoint P340 push rod camera command module supports the popular USB flash drive: simply plug your own or your customer's high-end memory stick into the USB slot and start recording and storing inspection videos, photos, and observations directly into it.
5. Outstanding picture quality
The P340 flexiprobe system offers three cameras, 1" (25mm), 1 ¼"(32mm) and 2" (50mm), equipped with high-resolution sensors and the latest generation ultra-bright white LEDS, which combine to deliver a crisp, clear picture in most pipe conditions.