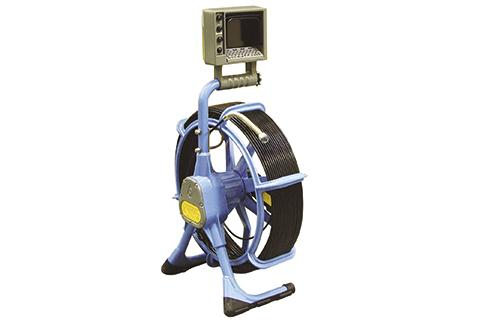 P374 IS (Intrinsically Safe & Explosion-Proof)
Pearpoint's P374 IS is an intrinsically safe (explosion-proof) pushrod sewer camera system, ideal for hazardous environments such as natural gas supply infrastructure and pipework within the chemical and petrochemical industries. This compact pipeline inspection system is certified to EEX ia IIC T6 for Zone 0 Hazardous Environments.
Key Features
Intrinsically safe and Explosion proof
System certified to EEx ia IIC T6 for Zone 0 Hazardous environments
Coiler running 200 feet (61m) of flexible rod
Built-in high resolution footage counter Surface equipment rated to IP55
Video/in and Video/out VCR connectors for recording and playback of surveys
Integrated high resolution 6.4" Color LCD allowing improved image recognition, retractable sun visor built in reducing the effects of sunlight on the screen
Built in QWERTY keyboard
A truly waterproof system for operation in most weather conditions, protected to Environmental spec IP55 n CMOS camera technology allowing increased operating time through low power consumption n Maintenance free, white LED's for increased performance and reliability n Integral electronic meterage counter that displays distance on screen in 0.1m increments which is accurate to +/- 1%
Rod Length: 200ft
Inspection Capacity: 1" to 4"
Focal Length: 0.25" to infinity, manually adjustable
Resolution: 360TVL, 510 x 492 pixels
Sensor Transfer Type: CMOS
Sensitivity: 3 Lux
Viewing Angle: 44o
Camera Construction: 300 series Stainless Steel
Camera Dimensions: 0.94" x 1.22" (Dia. x length)
Control Unit Power: 110 - 240V AC or 12V DC
Video In / Out: Compositer with BNC Connectors
Safety Rating: EEx ia IIC T6. Camera: IS/I/1/ABCD/T6, Coiler: AIS/I/1/ABCD
Coiler Dimensions: 27.5" x 23.5" x 12"
Weight: 46.29lbs
C & S Solutions now offers service and repair on this product. Please contact us for more information.