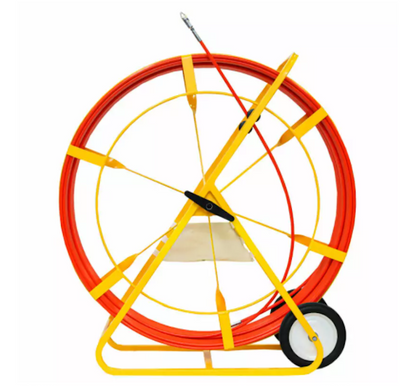 Big Buddy® Duct Conduit Rodder
Big Buddy® Duct Conduit Rodders are heavy duty, non-conductive and ideal for manhole-to-manhole work or long-run cable pulls. Its round, flexible rod slides easily over wires in occupied conduit. It has exceptional bending strength for maneuvering tight turns and will not kink. Big Buddy® accessories attach to rod for greater versatility and easier fishing.
800 ft. of 1/2-inch diameter fiberglass rod marked every 5 ft. (Metric every 1m)
Ideal for 4″ or larger conduit
10″ Bend Radius
1,000-lb Pull/Tensile Strength
Drag brake and safety feed eye control pay out
Canvas Pouch Accessory Kit Included: Splice Ferrule, Pulling Eye, End Ferrule, Adhesive, and Emery Cloth
Dimensions: 47.5″ X 44″ X 20″
Weight: 176 lbs.